Kanye West has met Donald Trump in the Oval Office wearing a "Make America Great Again" hat – saying it made him feel like "superman".
The superstar rapper spoke at length in front of dozens of reporters and photographers – and his wide-ranging, off-the-cuff address felt at times like something of a rant.
He revealed that his friends had tried to scare him into not wearing the MAGA hat – popularised during the president's campaign in 2016.
Nevertheless, he said he had "enough balls to put on this hat", adding: "People expect that if you're black, you have to be Democrat."
Speaking about his childhood, West said: "My dad and my mom separated, so I didn't have a lot of male energy in my home."
Describing how he looked up to Mr Trump, he hugged the president and said: "I love this guy."
Referring to his domestic situation, the rapper, who is married to reality TV star Kim Kardashian, said: "I'm married to a family where there's not a lot of male energy going on – it's beautiful though."
West also proposed that Mr Trump get rid of Air Force One and purchase a hydrogen-powered aeroplane.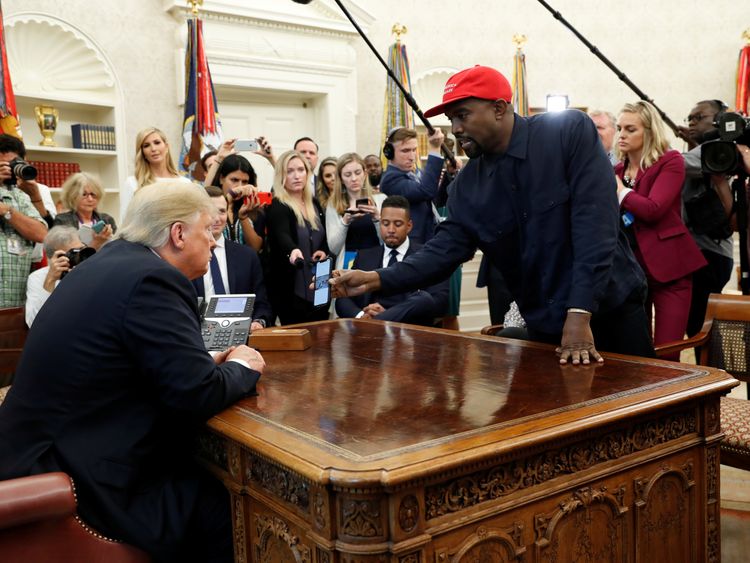 Turning to the economy, West said employment was a major priority.
"It's more important than any specific deal – anything – that we bring jobs into America," he said.
"We have to bring jobs into America because our best export is entertainment and ideas, but when we make everything in China and not America we are cheating our country."
After several minutes of silence and listening intently, the president said: "I tell you what, that was pretty impressive, folks… that was quite something."
West and Trump were set to discuss a range of issues during his White House visit – including manufacturing, prison reform, preventing gang crime and reducing violence in Chicago, where the A-lister grew up.
The music mogul also took the president to task over "stop-and-frisk" policing, where large numbers of people are temporarily detained, questioned and sometimes searched for drugs and weapons.
Despite being deemed unconstitutional because of its impact on minorities, Mr Trump has previously said "stop-and-frisk works" and urged Chicago to adopt the strategy.
After West warned "stop-and-frisk does not help relationships in the city", the president said he would be willing to "look at it".